Katherine Shapiro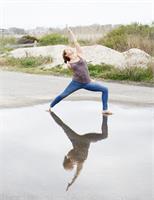 I have taught private and group classes in The Hamptons and NYC for over 15 years.
My classes are challenging and creative, with playful exploration and deconstruction of poses, intelligent alignment, sequencing and mindful flow. I call them "sweaty and sweet".
I have a BFA in Dance, 500hr ISHTA training, YogaWorks Bridge and YogaShanti Advanced training. I am registered with Yoga Alliance as a E-RYT 500 and YACAP (continuing ed. provider).
I am grateful to John Seelye for his support and teachings and the community at One Ocean Yoga.
I also currently teach at YogaShanti, YogaWorks, Hospital for Special Surgery's Public and Patient education Division and as part of NYU's Wellness for WIN.
My desire for mindful and compassionate living in a chaotic world brought me to the practice of yoga which I continually endeavor to integrate into every aspect of my life.
Katherine Shapiro instructs the following:
"The Practice": A playful Anusara Yoga practice suitable for intermediate students. Try out some new poses under the guidance of One Ocean Yoga Center's most experienced teachers!




Challenging Vinyasa or flowing series of poses, experience suggested. It is recommended but not required that you attend Basic or Level 1-2 classes before attending Open classes.




Join Katherine Shapiro, senior yoga teacher at One Ocean Yoga and Master Pilates Instructor at Yogaworks New York, for Pilates in the Vines! Surround yourself in the beauty of Bridgehampton farm country and the vines of Channing Daughter's Vineyards while enjoying a Pilates Mat class designed for students of all levels. Pilates is a system of exercises designed to improve physical strength, flexibility and posture. Popular among yogis, dancers, and corporate executives alike- Pilates can be added to a fitness routine to specifically target core strength, enhance posture, decrease back pain, and injury rehab.What could be better than Pilates in one of the most beautiful locations in the Hamptons!?Please arrive with time to get set up.