Emily W Weitz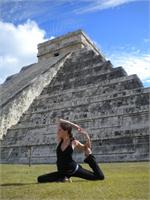 Emily Weitz McLean has been teaching yoga in the Hamptons and NYC since she received her certification in 2008. Trained in the Anusara style by senior teachers Elena Brower, Lois Nesbitt, and Ellen Saltonstall, Emily also draws influence from her time living in Bangkok, Thailand, and studying eastern philosophy. Her gentle nature infuses each class, so that there's a sense of ease and softness even in the most challenging poses. Her precise alignment instructions are designed to prevent injury and keep practitioners safe as their practice advances. Learn more at her web site,
Emily believes that yoga is a tool to access the truth within, to remain grounded in the moment, and to breathe through the tight spots in life. Educated in the Anusara style, Emily combines themes like joy, grounding and centering with precise alignment instructions to help students bring the strength of their practice to their everyday lives. Learn more about her at www.yogamatized.com. Contact: Emily Weitz yogamatized@gmail.com www.yogamatized.com 631-278-0037
Emily W Weitz is currently not instructing any classes.