Hanumen Hanumen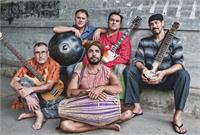 Who are The Hanumen?
Named after Hanuman, a brave monkey featured in South Asian mythology, the Hanumen (pronounced "Ha new men") are: John de Kadt (johndekadt.com), Benjy Wertheimer (benjymusic.com), Gaura Vani (gauravani.com), and Purusartha Dasa.
Highly trained in the sacred music of India yet rooted in American blues, the Hanumen perform an original mix of song and story and call and response chant in English and Sanskrit. Their sound vibrations fill the senses with joy and encourage?listeners to be the change they wish to see in the world. Join the Mantra Revolution!
Hanumen Hanumen is currently not instructing any classes.