Karen Meyer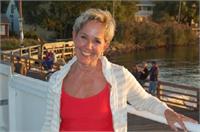 Karen has been described by many as a "natural born teacher". She began her professional life as a Special Education Teacher at an early age, and continues her learning today, both as a teacher and student.
Endowing her yoga classes with the same individual attention as she did in her former years of teaching , Karen's personal commitment is to bring out the Beauty, Heart, and Spirit in every student. She makes yoga user-friendly—with her, playfulness, purity of heart, and a lightness and simplicity deeply rooted in her extensive study of Yoga as a Living Practice of Energy Movement through the Chakra System.
In addition to Karen's eternal quest of accessing yoga as an integrative Mind/Body/Spiritual Practice, through her formal training in Hatha and Raja Yoga with the Himalayan Institute; she is also trained in Thai Yoga Massage, Sound Healing, and Aromatherapy. She is a Polarity Practioner, a Reiki Master and an Interfaith Minister. These incorporated modalities have instilled Karen with the wisdom and grace to help her students reap the joys of living yoga on and off the mat.
Her classes are designed for students to define, refine, and align their postures--with freedom, wonderment, and a dedication to their personal growth and celebration of life.
Learn more about Karen by visiting her website at www.karenmmeyer.com.
Karen Meyer instructs the following:
These classes are designed to accommodate a wide range of individuals who may not feel comfortable yet in a typically more active yoga class. The pace of this class will be slow and each session will be modified to meet the needs of participants. If you are interested in trying yoga but worry that your age, fitness level, weight, or a particular injury might make being part of a class uncomfortable or seemingly impossible then this class is ideal for you.




A slow-flow class designed to reset, renew and re-balance. Warm up, then deep stretch to re-align and re-open the body. Calm the central nervous system with long-held restoratives at the end of class. No better way to smooth out your week!




Foundation for technique; good for all students. This class offers a safe, moderate (re)introduction to alignment, form, breathing & spirit of the practice. Basic postures taught, no previous experience required. Drop-ins welcome although classes will follow a progressive sequence. Basic yes, but it can be rigorous even so.




Reiki is an ancient healing therapy that restores balance in the Spirit, the mind and the body. It's benefits reach well beyond the immediate circumstances of our day to day lives to assist us in experiencing life more fully connected to source & grounded in wellness. Reiki lowers blood pressure & slows the heart rate while diminishing stress and anxiety levels.