Jenna Walter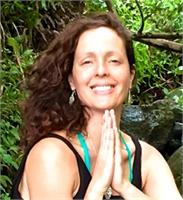 Jenna discovered yoga at seventeen and it propelled her on a journey to discover her souls destiny. Native American rituals, women???s healing circles, co-counseling and shamanic studies in the Incan tradition have all influenced her teaching style. She has also studied other healing modalities that complement her yoga, including Shiatsu massage at the Ohashi Institute, herbology with Arcus Flynn, nutrition and quantum energy studies with Karen Panish and Siddha Yoga chanting and meditation. She has also completed 300 hours of training in Peruvian Shamanism with Alberto Villoldo???s , The Four Winds Society.
Jenna is now leading workshops and retreats around the globe bringing her love of service to another level through her Dream Weaver Yoga and Shamanic Healing ~*~ 8 THREADS OF LIGHT INTENSIVES . These are transformational teachings for the era of enLIGHTenment.
Jenna Walter instructs the following:
Jump start your day with a One Hour open level class. Challenging Vinyasa or flowing series of poses, experience suggested. It is recommended but not required that you attend Basic or Level 1-2 classes before attending Open classes.