Elizabeth Muzyka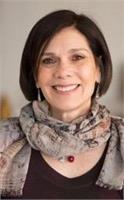 Elizabeth Muzyka is the Resident Teacher of Kadampa Meditation Center The Hamptons in Water Mill NY. She has been practicing Kadampa Buddhism and meditation for many years as a student of Venerable Geshe Kelsang Gyatso and continues her study as part of the Teacher Training Program. Elizabeth is known for her clear, direct teaching with warmth and sincerity, showing how to practically and easily integrate Buddha's teachings into busy, modern daily life.
Her teachings are inspired by her deep love of Dharma and her many years of practice.
Kadampa Meditation Center the Hamptons is a peaceful place of refuge and spiritual encouragement located in the heart of Water Mill, New York. Inspired by the books and teachings of modern-day Kadampa Buddhist master Venerable Geshe Kelsang Gyatso, we present meditation and the teachings of Buddha in a accessible manner that can easily be understood and integrated into our modern lives. The center is run by volunteers and together we have created a friendly, compassionate and engaged community.
Kadampa Meditation Center The Hamptons 720 C Montauk Highway, Water Mill NY 11976 hamptonsmeditation.org 631-728-5700
Elizabeth Muzyka instructs the following:
Take a breath at the end of the week and experience a guided
meditation with clear and simple instruction. Perfect for those new to
meditation and as well as those seeking to re-establish or refresh
their practice.

Sundays 7:00 – 7:40pm.

Each session consists of:
Meditation instruction – including advice on posture, dealing with
distraction and developing inner peace, establishing a meditation
practice at home and integrating meditation into daily life.
Thirty minutes of guided meditation.
An opportunity to ask questions with the Teacher after the session.

Meditation is a simple technique that everyone can learn. Experience
deep relaxation and find real peace and happiness within your own
mind. Discover how to cope with the difficulties and stressful
situations of daily life.

By donation.