Isabella Channing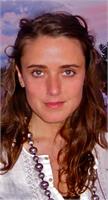 Isabella, the owner and primary teacher of The Shack Yoga, a yoga studio in Jose Ignacio, Uruguay, is a certified Jivamukti Yoga instructor. She began teaching in 2003 in Uruguay, South America where she was originally trained in the Sivananda Yoga method. She is a Licensed Massage Therapist, Certified Health & Wellness Coach and has extensive training in Ashtanga and Anusara methods of yoga. She currently teaches private and group classes in NYC, the Hamptons, and Uruguay. She has partnered with John Seelye to host One Ocean Yoga on her family's vineyard in Bridgehampton, NY.
http://www.theshackyoga.com
Isabella Channing is currently not instructing any classes.