Karen Meyer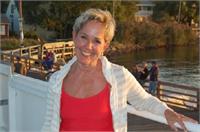 Karen has been described by many as a "natural born teacher". She began her professional life as a Special Education Teacher at an early age, and continues her learning today, both as a teacher and student.
Endowing her yoga classes with the same individual attention as she did in her former years of teaching , Karen's personal commitment is to bring out the Beauty, Heart, and Spirit in every student. She makes yoga user-friendly—with her, playfulness, purity of heart, and a lightness and simplicity deeply rooted in her extensive study of Yoga as a Living Practice of Energy Movement through the Chakra System.
In addition to Karen's eternal quest of accessing yoga as an integrative Mind/Body/Spiritual Practice, through her formal training in Hatha and Raja Yoga with the Himalayan Institute; she is also trained in Thai Yoga Massage, Sound Healing, and Aromatherapy. She is a Polarity Practioner, a Reiki Master and an Interfaith Minister. These incorporated modalities have instilled Karen with the wisdom and grace to help her students reap the joys of living yoga on and off the mat.
Her classes are designed for students to define, refine, and align their postures--with freedom, wonderment, and a dedication to their personal growth and celebration of life.
Learn more about Karen by visiting her website at www.karenmmeyer.com.
Karen Meyer is currently not instructing any classes.