Charity Robinson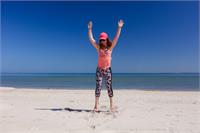 Charity Joy Robinson
After travelling and teaching movement across the globe Charity Joy Robinson has found herself residing in The Hamptons of New York recently.
She spent 3.5 years creating and facilitating a health and wellness program in the island of Mustique of St. Vincent and the Grenadines, consisting of yoga, core fit, dance fitness, paddleboard yoga and natural fitness training sessions.
Charity has been practicing yoga for over 18 years and teaching yoga and dance for 10 years. Charity has had many teachers over the years including Sean Corn, Shiva Rea. Dharma Mittra, Rich Logan, and she has found the best teacher to be the practice. She is a Thai Yoga massage practitioner after studying in Thailand over 8 years ago and continues to go back every few years to deepen her studies.
Charity has also dove deep in to energy healing and is a certified Reiki Master as well as an Access consciousness bars practitioner.
Charity Joy has a very positive outlook on life and it plays out in her teachings as playful yet challenging through an upbeat vinyasa flow style session accompanied with reggae, and global music. She encourages you and your body to try something new with a smile on your face and gratitude in your heart.
She teaches private and group sessions to adults and children in New York city, and the Hamptons and continues to travel to the Caribbean, Europe, and Asia upon request.
www.charityjoymovement.com
Charity Robinson instructs the following:
Foundation for technique; good for all students. This class offers a safe, moderate (re)introduction to alignment, form, breathing & spirit of the practice. Basic postures taught, no previous experience required. Drop-ins welcome although classes will follow a progressive sequence. Basic yes, but it can be rigorous even so.




Challenging Vinyasa or flowing series of poses, experience suggested. It is recommended but not required that you attend Basic or Level 1-2 classes before attending Open classes.